Tips & Tricks for Planning a Fa(boo)lous Halloween Party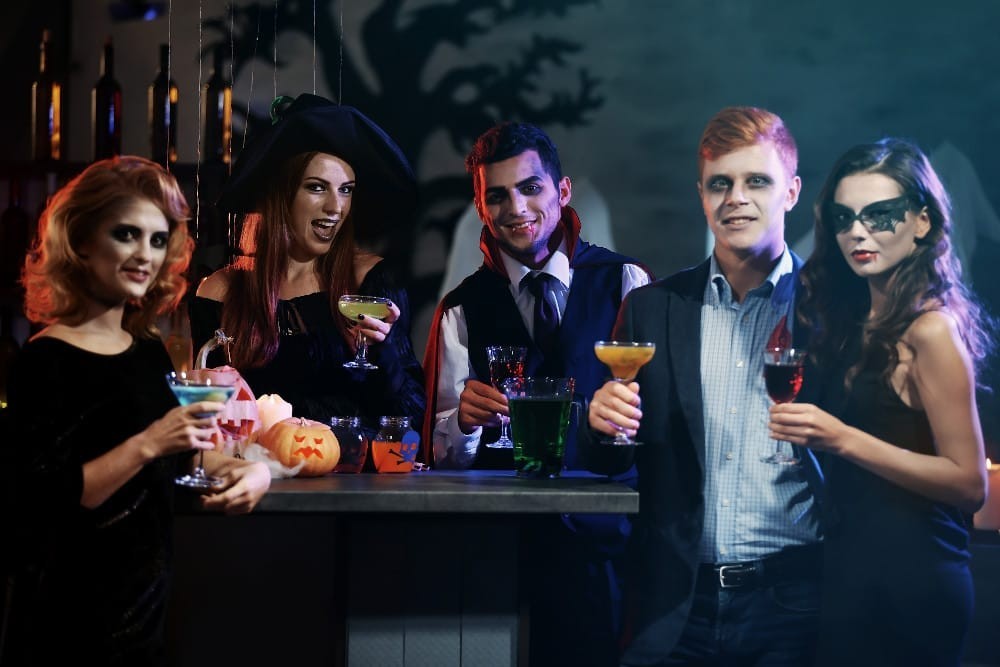 Categories:
There is no denying that Halloween has evolved into one of the most popular holidays, in fact, Halloween is now the second-highest-grossing holiday in America behind Christmas. People decorate their homes, stock up on candy, and think about the perfect costume. Halloween is fun for all ages because this holiday often carries far less stress than Christmas. If you're looking to throw an eerily spooktacular party, here are some tips.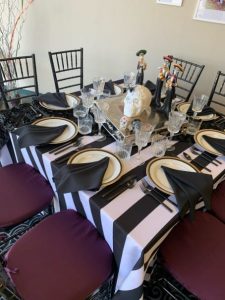 Choose an audience
A chic, elegant, or spooky adult-only soirée is going to be a much different affair than a child's costume party. Your first plan of action is honing into your ideal audience and building your theme around that. 
A grand entrance 
Greet your guests with spooky black painted flamingos, paper lanterns, skeletons, graves, jack-o-lanterns, or an elegant display of mums, leaf garland, and no-carve painted pumpkins. Depending on your theme you can play up your decor to tie it in. Going all-out spooky? Think dry ice in cauldrons, scary music, and creepy decors such as old dolls, and motion-activated scary figures that pop out at your guests. Whatever you decide, make sure the mood of your decor fits your theme and audience. 
Host a costume contest
Dip into your creative side by hosting a costume contest or consider a theme such as a masquerade ball or decades theme like the 60s, 70s, 80s or 90s. Try to keep your theme flexible enough so your guests can be creative. You'll love to see everyone's unique take on their costume with their own style. Sweeten the contest with a funny trophy for the winner you purchased at a thrift store, or up the ante with gifts cards or a beautiful basket of goodies.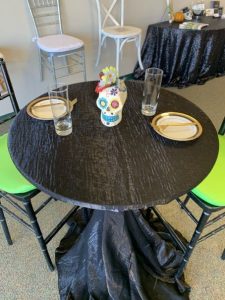 Food and drink
A simple google search will yield hundreds of spooky food and drink ideas to compliment your event. If you want to add to the fun, ask your guests to bring a Halloween-theme dish to pass. The possibilities are endless!
Entertainment
Considering a dance party? If so, rent a dance floor and get your monster mash on! There are no shortages of Halloween playlists to choose from. If dancing is not your idea of fun you can have a good old fashioned bobbing for apples, Halloween themed bingo, or jack-o-lantern carving and lighting. You can also search for games online and find the perfect game or activities to match your theme.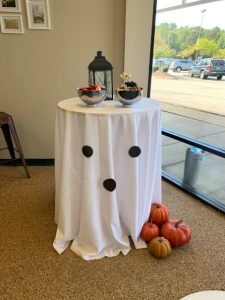 If you are ready to host an amazing and unforgettable Halloween party, call Classic Party Rentals today! Personalize your private party with us and we promise it will be painless and stress-free! For more information visit us online today. To stay up to date with our latest trends, follow us on Facebook!