LINC Recognizes Cancer Advocates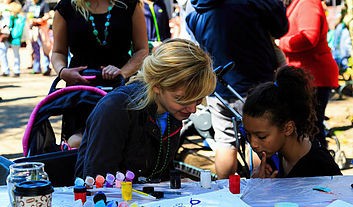 Categories:
Legal Information Network for Cancer, better known as LINC, presented four awards at its annual spring luncheon Friday to recognize outstanding cancer advocates in the Richmond community.
LINC eases the burden of cancer for patients and their families by providing assistance and referral to legal, financial and community resources.
Nina Whittleton, president and co-owner of Classic Party Rentals of Virginia, won the Volunteer Award.
Whittleton has run her Chesterfield County-based party rental business for 16 years, providing rentals for public and private events. ليونيل اندريس ميسي She recently was behind the decorations for LINC's annual live and silent handbag auction. العاب اونلاين للايفون
She is active with LINC, serves on the board for the Network of Enterprising Women and she is special events chairwoman for the Chesterfield Chamber of Commerce. قنوات بي اوت سبورت
Click to read more in the article from the Richmond Times Dispatch blog posted May 18, 2013
Photo courtesy of http://www.cancerlinc.org/