Graduation Party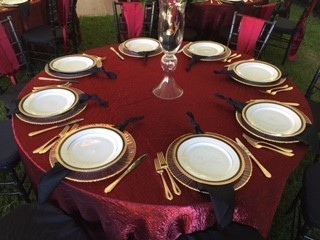 Categories:
I know that graduation was this past June, but with all of the wonderful parties and events we have featured this year, I did not want this one to go unnoticed.
This young man loves movies—everything  about movies!  His parents wanted to give him a special treat for him and his friends with this graduation party.
Red, black and gold were the colors chosen.  As you can see they wanted the party to look like an Oscar After Party.  Gorgeous iridescent crush linens, black chair covers, red sashes, black and gold china, gold beaded charges, and gold flatware complete the look under the tent.  The florals of red roses also contained an "Oscar" within the vase—very novel.
Around the pool (because all Hollywood actors and actresses  have pools), we continued the look for the tables and chairs.  Here they watched movies and enjoyed gourmet popcorns and other movie snacks.
Let you imagination run wild with your next party—call us and let us help you with your ideas.