Corporate Holiday Parties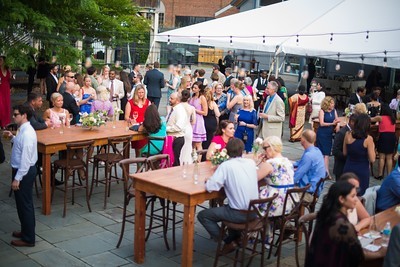 Your next corporate party can be a success when you let Classic Party Rentals of VA plan your event. We specialize in party rentals in Richmond VA for all types of events. We can provide rental equipment for both indoor and outdoor venues that stay within our clients' budgets. Our team will work hard to make your business gathering a success while going above and beyond your expectations.
Personalized Service
We realize that everyone's needs are different, and we know how to customize each event the right way. Whether your corporate event is expected to have a large or small turnout, we will make sure that everything is set to accommodate all guests. We can even plan elaborate corporate holiday parties that include all the right touches to give each guest a magical and memorable experience. You are welcome to come by one of our locations to tour a showroom.
Before we begin planning your event, you will have the chance to consult with our staff to go over all the details. We will take note of all your requests and offer suggestions that are intended to enhance your upcoming event. Our showrooms are set up in a way that allows clients to visually coordinate the rental items that are needed, and a staff member will be on hand to provide you with additional information and answer any questions. Our goal is to make sure that your party is in line with your company's values and represents your brand in the best way possible.
Tent Rentals
The tents that we furnish can accommodate large numbers of guests. Renting a tent from us will be a great way to ensure that your event won't be spoiled by rain, wind or other adverse environmental elements. We have tents of different sizes in our inventory and will make sure that yours is appropriate for your gathering. You can even request a tent that includes clear lights if you want to add some additional sparkle to your corporate party. Our team will set everything up and go over every detail carefully to ensure safety for all your guests.
Table and Chair Rentals
We will provide the chairs, tables and party rentals that your event needs. Your employees will be able to sit and enjoy themselves while they eat, listen to speeches and mingle with fellow team members. Whether you want black or gold chivari chairs or white vinyl chairs for your corporate party, we will deliver the exact number you need so everyone will have a place to sit. We can even provide wooden high chairs and booster seats if any children will be invited to attend.
The tables in our inventory are both elegant and sturdy. Round and rectangular tables, ranging from six to eight feet in length, are ideal for business parties held outdoors, indoors or under our rental tents. We even have a cocktail and half tables in our inventory that are ideal if you want your corporate event to have a more casual feel.
Flatware, Cookware and Serving Utensils
If you plan to have your event catered or cater yourself, we can furnish the right utensils. Our flatware collections include assortments of spoons, forks, and knives to make eating easier. Each flatware piece has been designed with an elegant style to make each event a classier affair. Try any of our serving utensils to serve your guests. Carving knives and cutting boards can be used to cut the perfect food portions.
To make corporate holiday parties and other types of business gatherings even more prestigious, we rent china sets that are made to the highest quality. Beautiful plates that feature intricate floral patterns and other visually appealing designs will give your staff members something positive to talk about. Bone china coffee cups and saucers can make any event seem more regal. Ceramic serving bowls, square white china ramekins, and bouillon cups can be included in your party as well. If you plan to offer dessert, a cupcake stand rental offers you a way to impress your guests.
Hammered chafers are great for keeping food warm and fresh. Four-quart and eight-quart food pans are capable of holding a variety of foods. Serving tongs and spoons are perfect for buffet-style service and can help maintain food cleanliness. Other serving items in our inventory that can be rented include cocktail trays, acrylic risers, and hot boxes.
For the freshest food possible, use our cookware to prepare food directly onsite. Our six-burner propane oven simplifies the process of cooking multiple food items at once. Our stainless-steel convection oven is designed to cook food evenly for the best taste possible. Everything from eggs and bacon to chicken breasts and grilled veggies can be prepared on our flat griddle surface. We also offer commercial deep fryers with two baskets and two feet by five feet propane grills.
Our Highly Trained Staff
We train our staff thoroughly to handle business parties of all sizes. Our team is knowledgeable of all our tents, tables and party rentals, and will see to it that everything arrives at your location in order. The representatives of our company understand what it takes to give each client the most superior party rentals and customer service in Richmond VA.
Your Approval Matters
We want you to be happy with our rental supplies and customer service to your utmost satisfaction. Let us know if there is anything that we can do to make your experience even better, and we will go the extra mile to fulfill your requests. We hope to encourage you to do business with us again whenever you plan any future corporate events.
Classic Party Rentals of VA will help you make your next corporate party a success. To learn more about our rental options that are ideal for all types of venues, contact us today or stop by one of our showrooms.