Bridal Show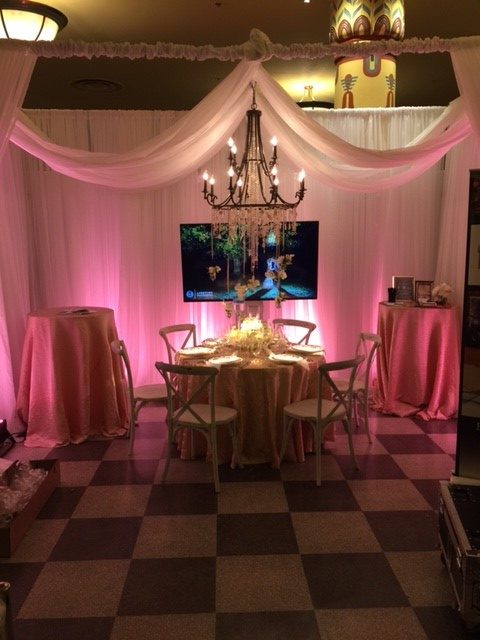 Categories:
As you all know an event has to start somewhere…
Many of our events start with a bridal show, so this week  I am giving you a little behind the scenes of our booth set up for the most recent Richmond Weddings Bridal Show that took place on Sunday, July 16, 2017.
At this show, we partner our booth with The Lighting Professors.  We set up white organza draping around the perimeter of the booth and draped some from above to create a tent like feel.  A gorgeous wrought iron, shell and beaded chandelier aided with the lighting.
Our theme for this booth was "Southern Charm".  The pinks in the shells and beads of the chandelier picked up blush linens (Extreme Crush Blush on the tall cocktails and Garden Graphic Blush on the center table).  Glass chargers with gold beads started our tablescape.   Platinum rimmed dinner plates and our new "Tara" coupe plates were added next.  The Tritan glasses (also new) and our Doria flatware complete each place setting.
Beautiful centerpieces and mini florals (hanging from the chandelier) were provided by our friends as "Flowers Make Scents".  Completing the look are up-lights and a tv monitor showcasing events both companies have done.
Our combined booth garnered many appreciative comments and looks.  We only have a little space to make a big impression, so we take advantage of every inch, to give a "WOW" to our potential clients.  See you at the next show, or better yet—in one of our showrooms to plan your event!