About Classic Party Rentals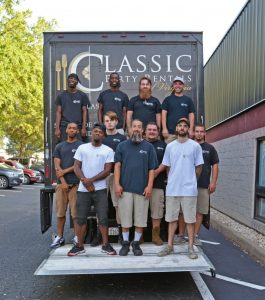 Our event specialists take pride in delivering a level of service quality that's unmatched in our industry. We believe that our ability to better support our clients comes from our willingness to listen to them and truly understand their needs. Meeting your expectations is our main focus. You can trust that we will be there to make sure that the details are dealt with so that everything planned for your event is executed perfectly.
To better meet our clients' needs, we offer an extensive inventory of quality event merchandise. In our showrooms, you can visually coordinate any rental items needed for your signature event setting. Our consultants welcome you to visit either of our locations, gather ideas from our showroom displays, view referral pictures and personally match our linens to your special events.
If you need an item not found on our website, please contact us and we'll do our best to find exactly what you're looking for. Whether you are planning a backyard family cookout, birthday party or a black tie celebration for hundreds, Classic Party Rentals of VA is pleased to provide you with the rentals to make your event successful!
Some friendly faces of the Classic Party Rentals team!